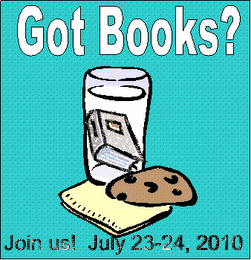 Welcome to Emily's Reading Room for the Got Books? giveaway!
While you're here, be sure to enter to win a copy of GIRL IN THE ARENA by Lise Haines
This book is perfect to read while you're waiting for a copy of MOCKINGJAY
!
Today I am giving away two prizes to two winners:
ARC (Advance Review Copy) of Infinite Days by Rebecca Maizel
Synopsis: When Lenah Beaudonte, a 500-year-old vampire queen, wakes up a human teenager at an ultra-cliquey prep school, she must choose between embracing the humanity she's always craved and saving her new friends from her vicious coven. The first in a sizzling new YA series.

Lenah Beaudonte is, in many ways, your average teen: the new girl at Wickham Boarding School, she struggles to fit in enough to survive and stand out enough to catch the eye of the golden-boy lacrosse captain. But Lenah also just happens to be a recovering five-hundred-year-old vampire queen. After centuries of terrorizing Europe, Lenah is able to realize the dream all vampires have -- to be human again. After performing a dangerous ritual to restore her humanity, Lenah entered a century-long hibernation, leaving behind the wicked coven she ruled over and the eternal love who has helped grant her deep-seated wish.

Until, that is, Lenah draws her first natural breath in centuries at Wickham and rediscovers a human life that bears little resemblance to the one she had known. As if suddenly becoming a teenager weren't stressful enough, each passing hour brings Lenah closer to the moment when her abandoned coven will open the crypt where she should be sleeping and find her gone. As her borrowed days slip by, Lenah resolves to live her newfound life as fully as she can. But, to do so, she must answer ominous questions: Can an ex-vampire survive in an alien time and place? What can Lenah do to protect her new friends from the bloodthirsty menace about to descend upon them? And how is she ever going to pass her biology midterm?
Paperback of Wild Roses by Deb Caletti
Synopsis:
Seventeen-year-old Cassie Morgan has a secret: She's living with a time bomb (a.k.a. her stepfather, Dino Cavalli). To the public, Dino is a world-renowned violinist and composer. To Cassie, he's an erratic, self-centered bully.

Dino has always been difficult, but as he prepares for his comeback concert, something in him begins to shift. He seems more high-strung than ever, set off by any little thing. He stops sleeping, starts chain-smoking. And he grows increasingly paranoid, saying things that Cassie is desperate to make sense of, but can't. So she does what she thinks she must: She tries to hide his behavior from the outside world. Before, she was angry. Now, she is afraid.

Enter Ian Waters: a brilliant young violinist, and Dino's first-ever student. The minute Cassie lays eyes on Ian she knows she's doomed. She tries everything to keep away from him, but is drawn to him in a way she's never felt before. It should be easy. It should be beautiful. It is not. Cassie thought she understood that love could bring pain. But this union will have consequences she could not have imagined.
As the novel crashes through two irreparable events and speeds toward its powerful end, one thing becomes clear: In the world of insanity, nothing is sacred.


Open to US Residents only
Ends July 24 12:00 AM
Fill out the form below indicating which book you would like to win. Comments will not be accepted as entries
Winner will be contacted by email and will have 72 hours to respond
.