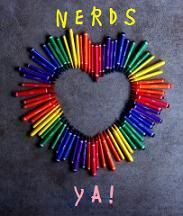 I was so pleased to be a second round judge this year for
Nerds Heart YA
. This is my second year participating, and I love this tournament for expanding the kinds of books that I read. So, here are the mini-reviews of the two titles that I judged. Decision is at the bottom.
How I Made It To Eighteen: A Mostly True Story
By: Tracy White
This book is the first graphic novel that I've ever read. In my life. I never thought I liked them. But, even given the subject matter of this book, I was absolutely sucked in. The illustrations added to the story in a way that could not have been described purely with words. Frankly, it is likely that I wouldn't have liked this book at all were it not written in graphic novel format. Tracy's struggle with depression and her life in a treatment facility were shown from through her thoughts and interviews with friends, both old and new alike.
One thing that I loved about this book is that it dealt with some very serious issues in a way that made it very easy to read. Often when I read about this subject matter, I'm cringing through the whole book. It's gruesome, gritty, real, and hard for me to stomach.
How I Made It To Eighteen
is much easier to handle, and it is definitely a book that I'd be comfortable giving a teenager, especially if I suspected that they were dealing with these types of issues. I was really pleased with the tasteful way it was handled.
The Kid Table
By: Andrea Seigel
Coming from a large extended family, there was a lot that I loved about The Kid Table. There is an interesting dynamic that comes with being seated at family gatherings away from the adults. I liked the interaction between the cousins, a lot which struck home with me as I reminisced on the times that I sat at the kid table.
This book was really quirky, with some funny and witty dialogue that kept me interested in the story line. It was written much like some adult books that I've read, but with younger main characters. However, I felt like a lot of the characters were there just to fill roles. The cousin with an eating disorder (who I actually liked the most out of all the characters), aunt and uncle with infidelity issues, divorced aunts and uncles, gay cousin waiting for the right moment to come out to his parents, the incredibly nosy cousin that thinks they can diagnose and treat you over thanksgiving dinner.
One of the biggest faults I have about this book is that I could not keep track of all the characters. I used the family tree at the beginning of the book a lot, and I found myself going back and re-reading parts because I couldn't figure out what was going on.
Ultimately, I think that an adult would enjoy this book much more than a teenager. It's much easier to appreciate the nuances of a kid table once that time in your life has passed.
Decision
:
Moving on to the next round is
How I Made It To Eighteen by Tracy White
. I read this book first, and after I read it, I knew that
The Kid Table
would have a really hard time competing. And, while the Kid Table was a fun read, I really think that
How I Made It To Eighteen
was the clear winner.