Many of you saw when I tweeted a picture of the box that I got on Friday:
I'm so excited to join the following bloggers in leading Team Amity to victory!
We have planned a really amazing month full of giveaways and challenges to get you excited for the release of INSURGENT. So, here is how you can support Team Amity.
Get our twibbon!
(thanks to Enna Isilee from
Squeaky Books
for creating it)
Put our button on your blog: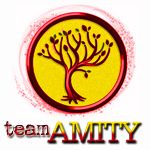 Support #TeamAmity on twitter
:

You can also enter the two giveaways already going for Team Amity for copies of Insurgent. But, don't worry! There will be plenty more!