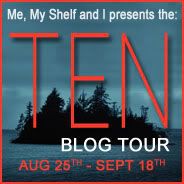 Today we are going to get to know Lori just a little bit better with her top ten list!
Top Ten Places I Want to Visit

La Scala Opera House, Milan
Metropolitan Opera House, New York
The Voice audition stage
Front row at an Adele concert
Cliffs of Moher, Ireland (I want to sing into the wind rushing off the cliffs!)
Paris sewers
Julliard
Musée d'Orsay
The hills around Salzburg
Kenny's house
And their doom comes swiftly.

It was supposed to be the weekend of their lives—an exclusive house party on Henry Island. Best friends Meg and Minnie each have their reasons for being there (which involve T.J., the school's most eligible bachelor) and look forward to three glorious days of boys, booze and fun-filled luxury.

But what they expect is definitely not what they get, and what starts out as fun turns dark and twisted after the discovery of a DVD with a sinister message: Vengeance is mine.

Suddenly people are dying, and with a storm raging, the teens are cut off from the outside world. No electricity, no phones, no internet, and a ferry that isn't scheduled to return for two days. As the deaths become more violent and the teens turn on each other, can Meg find the killer before more people die? Or is the killer closer to her than she could ever imagine?
Gretchen McNeil is an opera singer, writer and clown.

Her YA horror POSSESS debuted with Balzer + Bray for HarperCollins in 2011.

Her follow up TEN – YA horror/suspense about ten teens trapped on a remote island with a serial killer – will be released September 18, 2012, and her third novel 3:59, sci fi horror pitched as The Parent Trap meets Event Horizon, is scheduled for Fall 2013.
Gretchen is a former coloratura soprano, the voice of Mary on G4's Code Monkeys and she sings with the LA-based circus troupe Cirque Berzerk.

Gretchen blogs with The Enchanted Inkpot and is a founding member of the vlog group the YARebels where she can be seen as "Monday."